Friday, July 1, 2016

How To Stay On Track Over The 4th of July Holiday Weekend
Good Morning!! It is Friday and it is the HOLIDAY weekend! I don't know about you, but I am EXCITED! I love the 4th of July! Fireworks, cookouts, sparklers, pool parties, camping, hanging with friends and family!! It's all my jam!! HOWEVER- it does make it very difficult to stay on track with our normal routines and eating schedules, am I right?! Even the most disciplined people have a hard time focusing and staying on track and keeping out eating, drinking and workout routines in check!! Temptations TEMPT everyone!!
So the #1 rule I tell my clients is this– do not focus on being STRICT (unless that's your mission and you WANT to be super strict with yourself), focus on these 7 easy tips to stay within a healthy limit, but also not feeling deprived either!!  I learned early on in my health and fitness journey that for ME, I had to keep it to the 80/20 rule! What does that even mean? Well it means that for about 80% of my week- I focus on eating all of my fruits, veggies, protein, etc! I drink my water and i'm really on point! And then the other 20%- well that is where some treats come in! I can not feel deprived or else I binge eat. And I DO NOT want to go there! So I just eat according to my goals!
We are going to be camping this weekend! So what am I doing to prepare for a long weekend away? I'm setting myself up for success in a few ways!
#1- I am preparing some protein to bring! We are pre grilling some chicken to grab out of the fridge as a snack or to toss on a salad.
#2- Sam's club veggie trays are life savers for me! I am taking 2 veggie trays because when it's there and ready- I am much more likely to grab some veggies to much on rather than chips! I LIKE veggies NOW! I just don't like to take the time in the moment to cut! So do it ahead of time!
#3- WATERMELON! It's a fun fruit and we all love it! I will be chopping it up before we leave!
#4- Sparkling waters in the cooler! I love it! It tastes like a treat to me (NOW) and when it's ice cold- i will reach for that over a soda or gatorade!!
#5- Shakeology!! MY TREAT and saving grace! I will have it for breakfast every morning! It's my go to fast food, keeps my cravings at bay, gives me energy and keeps me full for 3 hours. No brainer!!
So what's next? How will I keep the abs even when indulging?
Here are my SEVEN tips to surviving the holiday weekend!!
1.  Schedule your cheat meal for the week:  Decide what you want to splurge on!  Is it the grilled hotdogs that you LOVE? Is it your best friend's macaroni and cheese? Is it the AMAZING peanut butter cake your aunt brings every year? Or is it the darn smores that get you every time? Maybe it's the beer or margaritas that you just can't say no to!!
Here's the TRICK!!  Pick 1 or 2 things that you can't live without and eat it!! Don't go overboard! Give yourself a reasonable portion, but just enjoy and eat enough to be satisfied!! It will be okay!
2. Don't skip your workout: Do not take a rest day on your cheat meal day!  You bust out that workout and you give it 100%.  Just because it's a holiday doesn't mean you slack.  Results happen because you are consistent day in and day out!  Invite some friends or family to do it with you! Make it fun and remember- results are not made when you feel like it- they happen when you WORK for it! We have a Beachbody on Demand option where you can literally pull up a workout ON YOUR PHONE! So you literally have NO excuses!! Let's work! You can EVEN download the On Demand App to your phone or ipad and stream the workouts.  Plus with On Demand you can store up to 7 workouts so that you don't even need wifi connection!
If you want to do something different then get yourself out for a run or switch it up by going to the gym in the hotel while traveling.  But if you are going to be enjoying summer treats, don't schedule a rest day on a cheat day!
3.  Take a healthy appetizer if you go to a picnic:  This way you know you have something that you can eat that is guilt free!  Here are a few of my festive favorites that you would not think of as a clean option.

4. Don't let yourself get to the point of ravenous:  If you are planning a picnic try not to skip meals.  Eat every 2 1/2 to 3 hours a day to keep your metabolism in check but also because when I get to the point of beyond hungry all logical decision making goes out the door and I make bad choices!  So no matter what pack some snacks in a cooler, take your shake, drink your water and stay focused!!!!
5.  What are the best drinks to have?:  Stay away from sugar loaded fruity cocktails like Margaritas, Daiquiris, Pina Coladas, Beer and wine. They are just full of sugar and carbs. The best drinks to go for are really vodka and soda water with a splash of lemon or lime.  We also make our own margaritas that are clean.
One thing we recently have been doing is blending up fresh watermelon and then using the juice as the base, add in some tequilla, a splash of margarita mix, seltzer water and serve.  So refreshing and 1/2 the sugar!
6.  Stay Hydrated:  So when the sun is hot and you are outside it's easy to get dehydrated.  So make sure you are constantly sipping your water and staying hydrated so you don't confuse your thirst for hunger and begin to overeat!  Aim to drink 1/2 your body weight in OUNCES of water each day!  The more coffee you drink the more dehydrated you get, so sip that water!
7. Don't Stress and HAVE FUN! Stress can absolutely derail progress, so make sure that you aren't thinking about 'what do I eat, how do I stay on track, oh my gosh! How many calories is in that, I can't have that, etc' when you should just have your plan and go with the flow! Enjoy the holiday, have a GAME PLAN and have some fun!! Remember, Rome wasn't built in a day! One day will NOT make or break you, just like one workout or one day of eating healthy will help you lose 20 pounds or get you abs! NOT GONNA HAPPEN! Progress, progress, progress! You can do it!
What are some of my favorite summer time recipes that you can make?!
Here you go!
Fun and Festive Fruit Tray
Grab some skewers at the grocery store, cut up strawberries and bananas and put on the skewers with blueberries for an awesome beautiful side!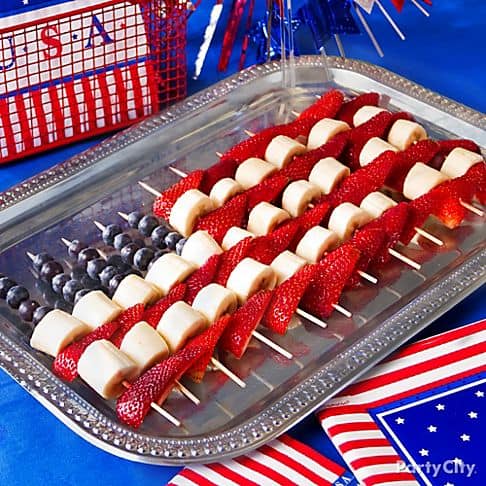 Appetizers
Desserts
Jello Poke Cake (NOT super healthy, but a better alternative than some high fat desserts!)
1 white cake mix – prepared as instructed
1 box of your favorite jello (3 0z.)- we like raspberry or black cherry
1 cup boiling water
1/2 cup cold water
1 tub of cool whip
blueberries
strawberries
1 straw
Take cake out of the oven after it has baked.
Use the straw to poke holes all over the cake! The more the better!
Make the jello by pouring the gelatin into a mixing bowl. Add the boiling 1 cup of water- stir until dissolved and then add the 1/2 cup cold water and stir.
POUR JELLO OVER ENTIRE CAKE!!
Refrigerate until cold- about 3 hours.
Then, cover with cool whip and use the strawberries and blueberries to make an American Flag on the top!
ENJOY!
Your best drink options are:
Soda water/vodka (boring but add a squeeze of lemon, lime or oranges to the mix and give it some flavor) 
And here's something fun to do with the kids!! A fun little scavenger hunt that we are doing to make them giggle while we help them! It's the little things in life that make the best memories! Create some amazing memories this weekend!!
I hope you have a safe, happy and fun 4th of July weekend!!